Time stamp: Early Tuesday Morning
Zero crawls out of bed quietly. She's been staying in the inn, as of late. Though it's much noisier (to her distaste), it's admittedly easier to sleep indoors in the colder months. Unfortunately, though, sleep managed to evade her that night. She'd managed to "speak" with her old friend again, and figured now would be as good a time as any to get a plan in motion.
She heads out to the common area, pen and parchment in hand. It must still be quite early, she figures, the sun hadn't yet graced the dawn, and Knife hadn't begun cooking breakfast. There were signs of merriment the night before, the chairs were, again, arranged in some new fashion. Many must have had another late night.
She drags a seat over to her usual table, and scrawls a notice. It's quick, but legible enough, compared to her usual chicken scratch. It was important the rest could read this one.
Once finished, she tacks the notice on the board. She grabs a small cup of ale, swigs it quickly, and heads back to her bunk. Maybe now, she figures, she could get some rest.
The notice reads: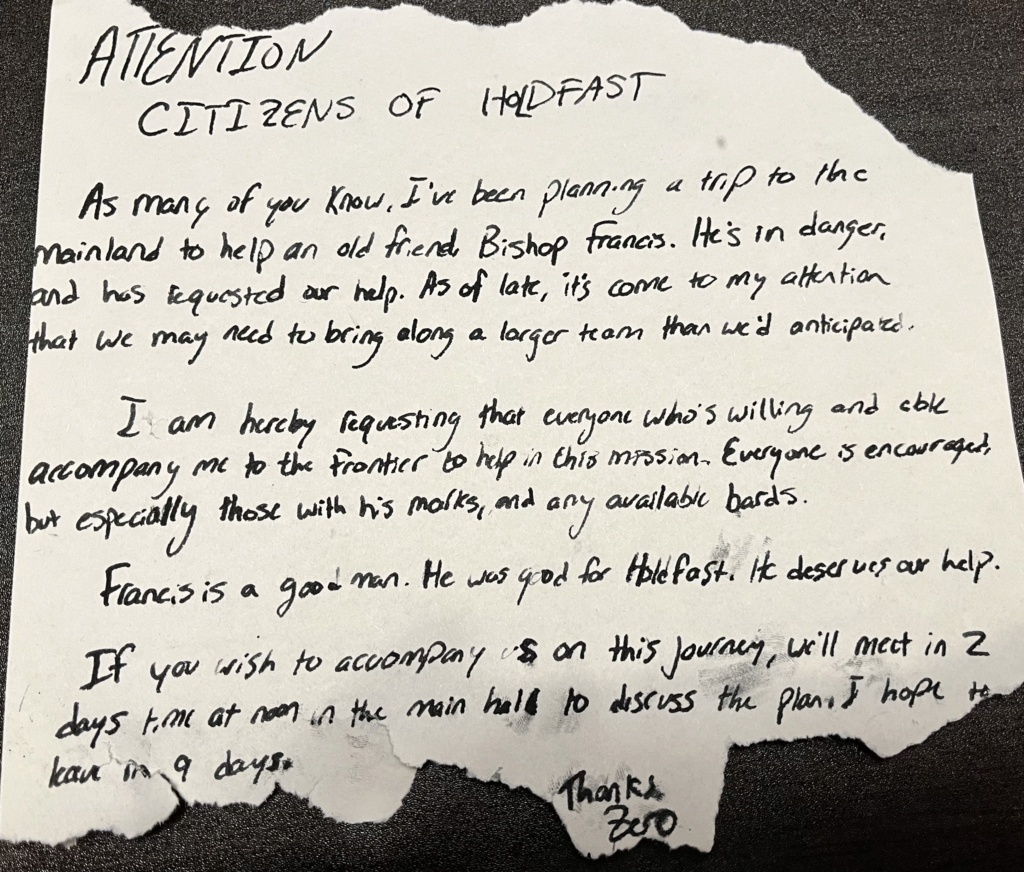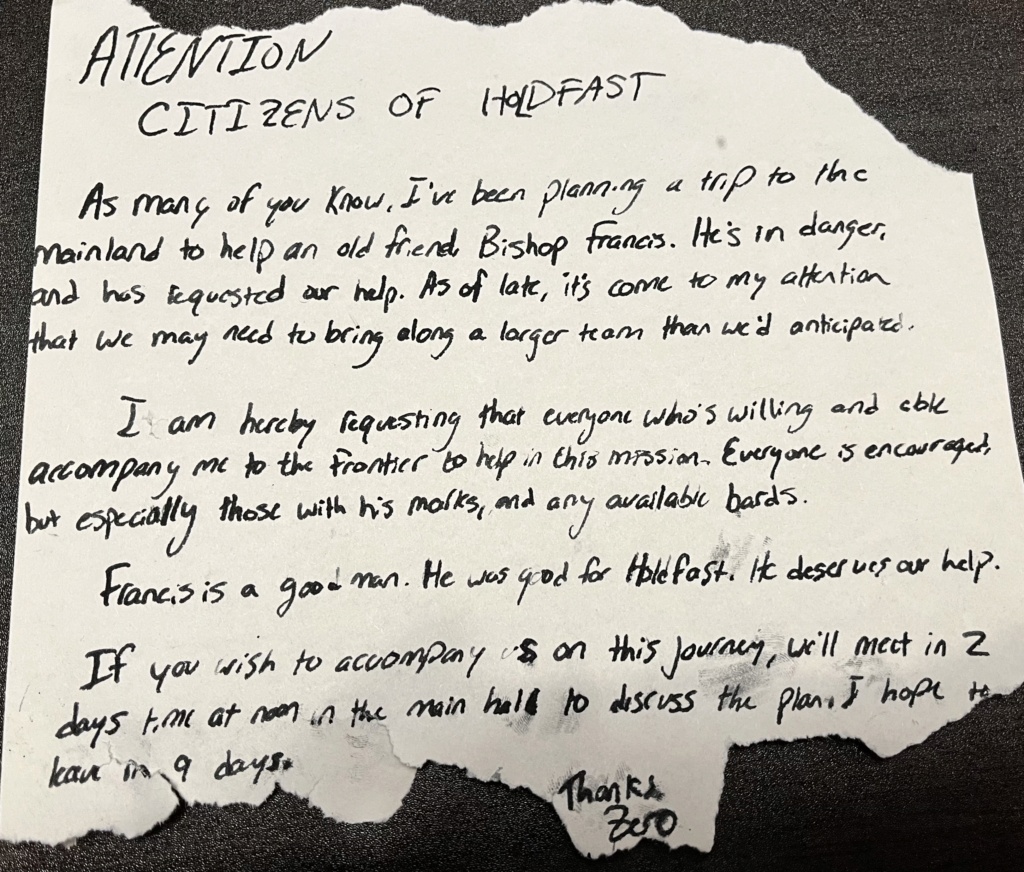 ATTENTION, CITIZENS OF HOLDFAST

As many of you know, I've been planning a trip to the mainland to help an old friend, Bishop Francis. He is in danger, and has requested our help. As of late, it's come to my attention that we may need to bring along a larger team than originally anticipated.

I am hereby requesting that everyone who is willing and able accompany me to the Frontier to help in this mission. Everyone is encouraged, but especially those with his marks, and any bards in town.

Francis is a good man. He was good for Holdfast, and he deserves our help.

If you wish to accompany us on this journey, we will meet in 2 days time at noon in the main hall to discuss the plan. I hope to leave in 9 days.

Thanks.
Zero
((OOG note: as mentioned at game, this will be an off-season mini event, held sometime in the new year. The more people go, the better. If you want to be involved, it's encouraged!
Please feel free to direct any questions to myself [Jennifer] or Sage, we'll be happy to answer whatever we can)).
((thread continued in The Watering Hole channel here
https://epochnl.canadian-forum.com/t706-planning-a-rescue-mission#10564))
Last edited by Zero. on Thu Dec 08, 2022 5:02 pm; edited 1 time in total

Zero.




Posts

: 34


Join date

: 2017-06-13



Similar topics
---
Permissions in this forum:
You
cannot
reply to topics in this forum